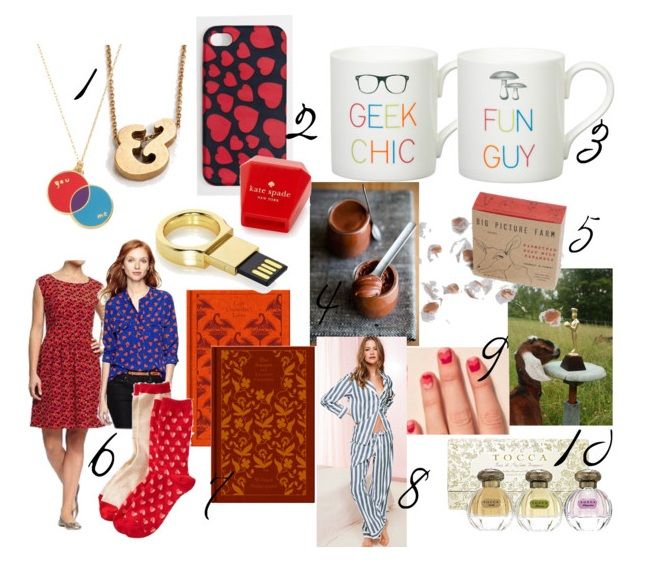 I think Valentine's Day gets a bad rap from all the singles being made to feel lonely out there. But romantic love isn't all there is out there. Growing up, my mom always made me feel loved and special on Valentine's - one notable year I awoke to her making batches of heart-shaped frosted cookies for me for breakfast. Just last week my oldest and dearest friend said she'd been thinking about me a lot lately (we haven't seen each other in nearly two years) and wanted to send me something for Valentine's Day.
Of course we all should appreciate and show our love every day, but let's be honest, we get busy, we get distracted and we can forget. Why not take this day to remind everyone you love just how much they mean to you?
Here are a few Valentine-y things that I've been loving lately...
1. Non-traditional jewelry // Things that feel unique and special hold so much more appeal than that diamond pendant that's in every mall ad come Valentine's Day. I love
this nerdy Venn diagram necklace
and
this block ampersand pendant
for their quirky sweetness.
2. Sweet tech // Who says romance can't be functional?
A case for receiving loving phone calls
or
a swanky way to transport electronic love notes and photos
are little ways to bring love into the everyday.
3. Matching morning mugs // I like the idea of celebrating your own person within a couple.
These make-you-smile mugs
for loving looks over morning coffee are perfectly representative of me and my husband.
4. Something rich & chocolatey // While
this chocolate mousse
is oh-so rich and decadent (and my favorite bit -
so
easy!), it won't weigh you down like some other heavy chocolate desserts. I like to make mine with chili Lindt bars, cinnamon and a little Cointreau.
5. Gourmet caramels // Not only do these
award-winning caramels
come in the mouth-watering flavors of sea salt and bourbon vanilla or chai, but the
Big Picture Farm website
is enchanting all on its own. Each product lists which goats provided the milk for that product (with names like Gertrude and Winnimere, how could they not provide delicious milk?) and has photos of the goats frolicking and looking cute. The whimsical drawings of each goat just adds to the charm. You can also keep up with the goats' glorious life on
their blog
.
6. Heart prints // It's hard to not feel the love with your heart literally on your sleeve. I'm loving these very Marc Jacob-y prints at
Gap
and
Old Navy
to wear throughout the year. Who says you only have to be in the mood for love around Valentine's?
7. Classic romance // There's just something about the classics. Sure, the stories are timeless, but ever since Penguin started releasing
the most beautiful books in existence
, it's made reading them - or heck, even displaying them on a bookshelf - feel like a much more romantic endeavor. Think I might have to read a Shakespeare sonnet or two this month...
8. Cozy nights in // Ever since my go-to cotton pajamas ripped gloriously down the back a few weeks ago, I've had my mind on a fresh new pair to replace my now very threadbare and rather dated set. It's hard to go wrong with a classic stripe or chambray - and how lucky for me that
Victoria's Secret pajamas
come in tall! No more freezing ankles and wrists, thank you very much.
9. Festive manis // Everyone knows I'm a bit of manicure nut, but holidays provide even more reason and inspiration to put something special on your fingertips.
The Beauty Department
has some great tutorials, although some are a bit too much work, even for me.
This xoxo mani
, as well as simple hearts - either
freehand
or
with a stencil
- are just right.
10. Packaging is everything // I am definite Chanel girl when it comes to perfume, but Tocca runs a very close second. If not only for its wonderfully unique scents, the bottles look like ones you might find in an antique store and downright beg to be displayed on a dressing table.
This little trio
, which includes my very favorite Tocca scent, Cleopatra, would be the perfect way to beautify my perfume shelf and allow me to change things up depending on my mood.
Happy Valentine's Day!
see this collage bigger here