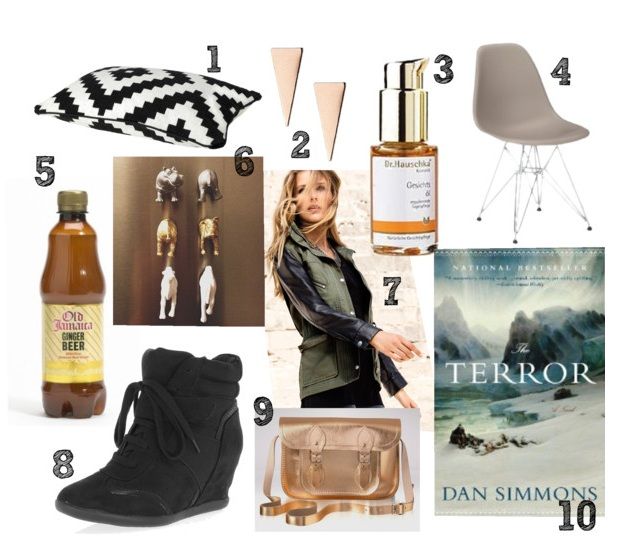 In an effort to control my spending as we save for
Berlin
, I thought I would start this new thing each month where I focus on the things I'm loving most at the moment - both things I own (to appreciate what I have) and things I'm coveting (to try to focus my spending, or better yet, quell the urge to spend at all). So here goes...
1.
Graphic pillows
// Every time I see the
awesome sofa pillows
on Nat the Fat Rat's blog, I believe our massive sofa looks hopelessly empty and is begging for an equally amazing collection to snuggle into. This one from Ikea is topping my list.
2.
Rose gold triangle studs
// So simple, so perfect - so affordable!
3.
Dr. Hauschka Gesichtsöl
// Going from coastal California to super-dry, land-locked Germany has left my sensitive skin positively parched. This stuff works wonders.
4.
An Eames chair
// Every time I see the classic white version of this chair, the green-eyed monster comes out to play. Then I see the price, and he disappears without a peep. This color -
mauve-grau
, they're calling it - is gorgeous, not to mention versatile enough to lighten up some of our other heavy furniture - and it's half the price of the white version. Something to look forward to for our new apartment, perhaps...
5.
Ginger Beer
// We stock up on this at the Kleinmarkthalle in Frankfurt (same place we stock up on my white corn tortilla flour and salsa verde) to make my new favorite drink: this, a bit of Makers Mark and orange peel over ice. Delish!
6.
Animal magnets
// Another find from
Natalie
(I think I'm a little obsessed with her blog right now...), I too was charmed by these sweet little magnets. I wish I could try a little DIY action and make my own, but I'm fairly certain I'd be a few fingers short by the time I finished. So for now, I pine for the giraffe one especially.
7.
Jacket with faux leather sleeves
// I've been stalking this style of jacket since they first started appearing on fashion bloggers last year (already having
tried one
, which only looked like I was trying way too hard) and this is the first one I've found that really fits the bill. I may or may not have already ordered it with H&M Germany's recent 10% promo... (to which I plan to diligently pay off with the next few weeks makings from afternoons with the Italian girls, promise)
8.
Wedge sneakers
// Much to the chagrin of my husband, I've become obsessed with the all-black, laced version of this trendy shoe. For the price, I think this Dorothy Perkins version is well worth the trend.
9.
Cambridge Satchel in Rose Gold
// This limited edition color would make the perfect bag, for a special occasion or just to make every day feel a little special.
10.
The Terror by Dan Simmons
// This massive tome (nearly 800 pages!) has been at my bedside for several weeks now (admittedly, I picked it up at the English book sale because of the beautiful cover artwork). Reading about the arctic temperatures makes me thankful it is only as cold as it is here. No lost fingers and toes for me, thanks.
Phew! That felt good. More next month...