have a love/hate relationship with bathtubs. For most of my life (since the time I sprouted to the size of an Amazonian), I have not been able to take a bath. Well, I could take one, but elbows, knees, and heck, most of my arms and legs were left sticking out at odd angles, which pretty much defeated the purpose of trying submerge oneself in warm relaxation. There was a time or two I happened to be at some posh hotel with a jacuzzi tub, these instances just taunting me with the amazing bath-lounging life that normal-sized folks got to enjoy. Other than these rare indulgences, they were only a seriously awkward and uncomfortable means to getting clean.
That is, until we moved to Germany. Somehow, I magically fit in the roomy, deep tubs of this country, as if they were made for people with my proportions. I realize some of this is likely due to cultural differences and not just a generally taller population. In the US, it is go, go, go, as fast as you can, so a shower is the most likely choice. But Germans, as practical and efficient as they are, have this love affair with luxuriating in a bath. They swear by the restorative powers of their Thermalbad (Wiesbaden was in fact named for these natural hot springs that run beneath the city) and have a bath salt selection that rivals American cereal shelves. Whatever the reason, they have made this once-cold-knee and -elbowed bath taker a convert - and I don't think I could ever go back.
Due to this affinity for baths, most German apartments have them. That is, until you start looking at renovated flats in a crowded city like Berlin... in which space for a tub might be reserved for your washer, or in more desperate cases, even just a decent size sink. Each time I click on a promising-looking listing only to see a tiny shower, my heart sinks just a little bit. So as silly as it sounds, a bathtub is pretty high on my Berlin apartment wishlist.
Hello, swanky!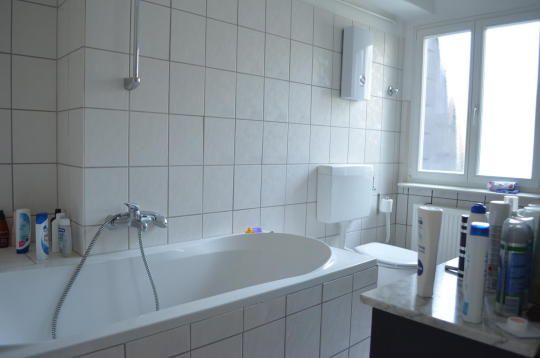 The last photo above is from an apartment we are actually hoping to view while we are in Berlin next week. Not the most spectacular tub I've seen yet (I'm gunning for something along the lines of that first one...), but certainly a really nice place that is conveniently opening up right in line with our moving time frame.
As we continue our search, I'm trying to come to terms with the fact that a shower-only, otherwise perfect apartment could come up - and would I be okay with that. As nice as some of them are, I'm just not sure I could be happy with this:
Or worse yet, this:
showering in a coffin, anyone?
I'm crossing my fingers that when the right place does come along, there will be a large, deep tub waiting for me to soak in after long days of setting up our new home.
Daily Drop Cap by Jessica Hische