This is what people generally envision when thinking of what a kitchen might look like in their new apartment: cabinets, at least some counter space and somewhere to cook. To many, this might not be considered a 'luxury' kitchen, but to us renters in Germany, anything above and beyond an empty room is a luxury.
I'm not sure where the concept of the
Einbauküche
, or 'fitted kitchen', being entirely optional and downright rare for rented apartments came about, but it is the most ridiculous concept ever created (
note: this is not the first, nor will it be the last time I rant about this subject
). Renters are supposed to buy and install an entire kitchen - as in, cabinets, countertops, sink, appliances, the whole deal - each time they rent a new apartment. Because let's face it, how many kitchens are exactly the same layout and amount of space? Therefore, how likely is it that the kitchen you invest thousands of euros into is going to come along with you to your next place of residence? Exactly. For practical Germans, this is one of the few areas that they have left me completely stumped.
So as we delve into our Berlin apartment search, here's what we might expect to find in a 'kitchen'...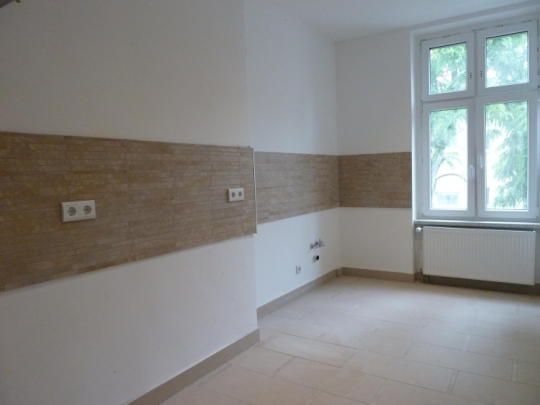 Even this 'unfitted' kitchen is pretty luxury in terms of space and designer accent tile. The average German kitchen tends to look something more like this: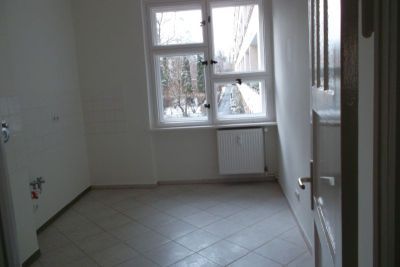 Clinical-looking and boring. From what we've been told, Berlin apartments are now required to be outfitted with a stove and a sink, at the very least. But if this is what that is going to look like...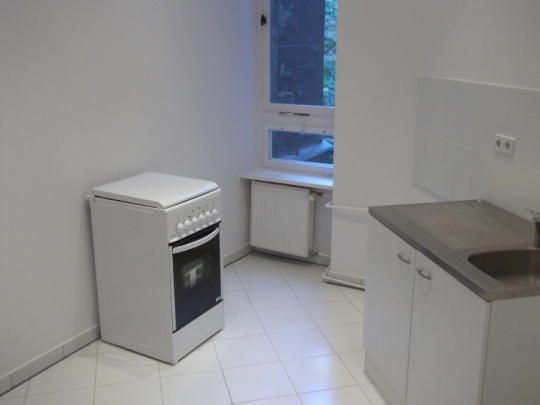 Well, you see where I'm going with this. I think I'd rather start from scratch, buying the appliances and sink and counter space that work for my needs. But the idea of being able to make my kitchen whatever I want it to be is also financially daunting, especially as expensive as it is just to move in this country: hefty deposits, hefty rental agent fees, that truck that will get our belongings all the way across the country. Any decent-looking installed kitchen, even from budget-conscious Ikea, is going to require a significant chunk from our moving budget. So what to do? There is Ikea's standalone kitchen furniture, which could be easily be moved from apartment to apartment, but I admittedly had a bias against it for not being 'serious' enough... that is, until I saw what Anna over at
Door Sixteen
did in her house in New York: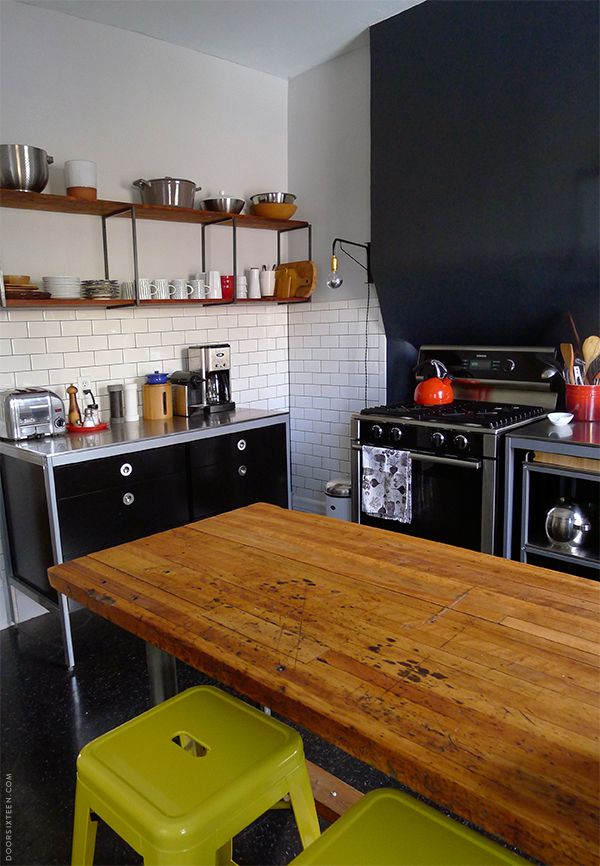 Uh, stunning, right? A far cry from the janky, 20-something's studio I envisioned those Ikea pieces belonging in. Not to mention
those stools
and
that salvaged table she refinished
and
amazing tile walls
she did BY HERSELF. Okay, I think her significant other probably helped, but still (
I am not worthy!
). Seriously though, she made pieces that many people might not even consider for their rented apartment, let alone their
home
, look seriously stylish. I am already leaning towards one of those empty rooms for a kitchen so I can create my own version of this hip space.
The real downside here is that we already had to buy a stove/cooktop and dishwasher when the ancient ones
left behind
we bought from the previous tenants (hey, they were already installed and we were moving halfway around the world - seemed like a good idea at the time...) quit working properly soon after we moved in. So a portable kitchen such as this would mean ditching them - or at least trying to sell them to the next tenants of our current apartment - and buying new again. Save on the cabinets, spend on the appliances.
*sigh...*
So much to consider...
It's almost enough just to raise the white flag and declare '
Einbauküche
only'! We could luck out with something as decent as one of these: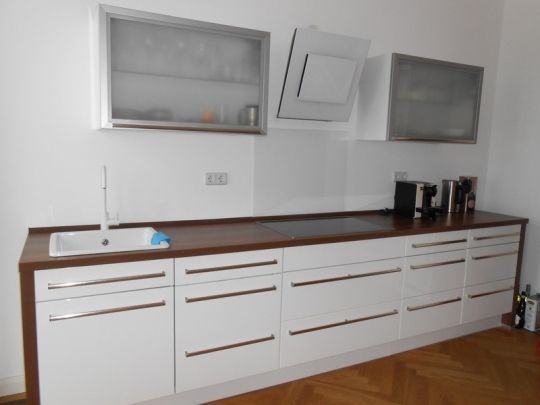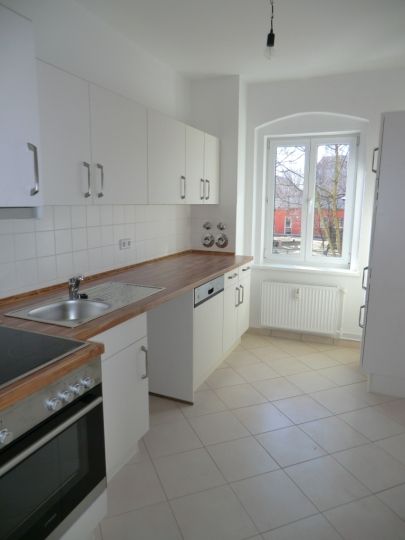 And then that's one less thing to stress about for our move. Frankly, anything is better than the decades-old Ikea kitchen we have now, complete with grid design in the cabinet glass and mold growing rampant in the wood counter tops. I guess we shall see what apartments we find and which landlords deem us, and our sub-par German, worthy of renting a highly covetable Berlin apartment to...
All images, except the one from Anna of Door Sixteen, are from Berlin apartment listings on null-provision.de and immobilienscout24.de