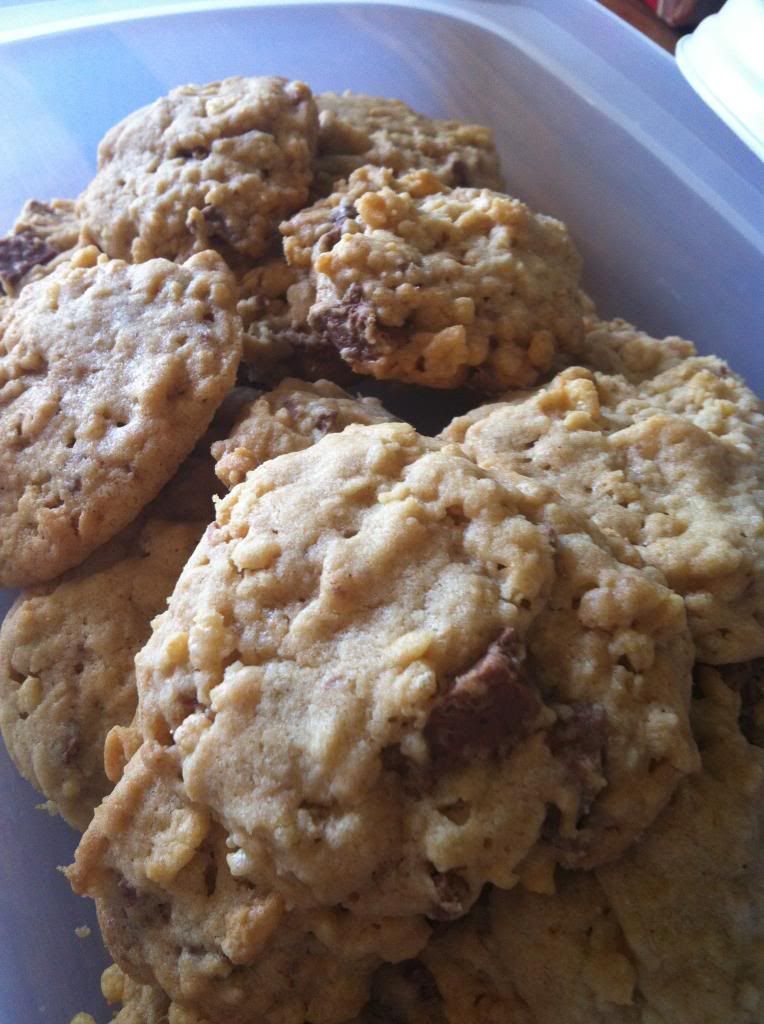 I have a confession to make: cookies are not my favorite thing. For the most part, I could take them or leave them. If I'm going to have something sweet, I would much rather have some amazing ice cream or a moist cupcake or some of my favorite candies. There's something about the often dry, overly-sweet, 'blah' texture of a cookie that just doesn't do it for me. That is, except for these gems which I discovered in a
Mrs. Fields recipe book
circa 1994.
Krispies are the perfect marriage of sweet and salty, crunchy but chewy. I know most people are very particular about their cookies - nuts, no nuts, milk chocolate, dark chocolate - so I'm sure these aren't for everyone. But for me, these are the cat's pajamas, the cream of the crop and the cookie I would request if it was the last one I ever got to eat.
Hope you enjoy them as much as I do!
Mrs. Fields Krispies
2 cups all-purpose flour (I use German 405)
1/4 tsp salt
1/2 tsp baking soda
1/2 cup dark brown sugar,
packed
1/2 cup white sugar
3/4 cup salted butter, softened (I use 3/4 of a standard European butter and add a pinch of salt)
1 large egg
2 tsp pure vanilla extract (no substitutions)
1 cup Rice Krispies cereal
1-1/2 cups (8oz/227g) crispy rice chocolate bar, coarsely chopped (see below for my recommendation when you can't get your hands on a Nestlé Crunch bar)
Preheat oven to 300°F/150°C. In a medium bowl, combine flour, salt and soda. Mix well with a wire whisk and set aside. In a large bowl, blend sugars with an electric mixer at medium speed. Add butter and mix to form a grainy paste. Scrape down sides of bowl, then add egg and vanilla. Beat at medium speed until light and fluffy. Add flour mixture, Rice Krispies and chocolate chunks, blend at low speed until just combined (do not overmix). Drop by rounded tablespoons onto ungreased cookie sheets, two inches/ centimeters apart. Bake for 22-24 minutes. Immediately transfer cookies with a spatula to a cool, flat surface.
Here in Europe, Nestlé Crunch bars are nearly impossible to come by and every rice-related chocolate bar in Europe seems to favor the puffed variety, rather than the good crunch of crisped rice. This is well and good for snacking, but puffed rice just makes these cookies fall flat. I was at a loss until I found these babies: Rapunzel's Crispy chocolate bars, which I buy at Alnatura. If you happen to find another great substitution for this chocolate, I would love to hear about it.
And also, these cookies are best enjoyed thoroughly cooled for that perfect crunch!